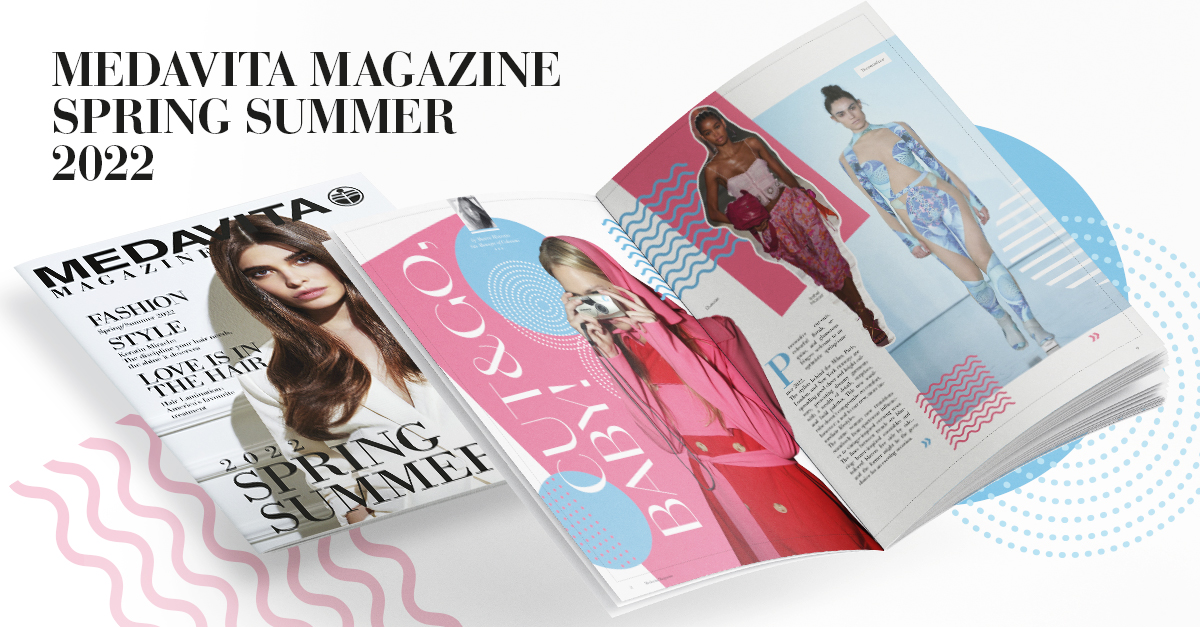 Want to keep up with this season's hottest trends?
Then don't miss our latest issue of Medavita Magazine: you'll find all the current trends, hair moods, and make-up tips you need for Spring/Summer 2022.
Here's a preview:
Hair Trends:
Straight hair is officially in: after catwalks full of waves and curls, this year is all about straight, shiny, and healthy hair.
In fact, this season's hairstyles take a minimalist approach, with controlled, understated textures and drastically subdued volume.
Haircuts: get ready for a chop
Bobs take centre stage this season, as seen in presentations by all the biggest stylists. Styled with or without a fringe, the models showcased this simple, high-impact look, which frames the face very naturally.
Not quite ready to give up your long hair?
Don't worry, Rapunzel: the slicked down, wet look comes to the rescue.
The long, wet look trades texture for shine, for super smooth, long hair.
Updos also get a minimalist update: apart from a few rare exceptions, stylists chose low ponytails and braids, with the hair pulled back tight.
Barely-there make-up
As the weather warms up, the nude look takes over: natural lips, sun-kissed skin, and intense eyes rule this Spring/Summer 2022.
Make-up returns to its original task: enhancing our beauty without overdoing it. The trend is bright and healthy: a touch of blush on the cheeks and more emphasis on the eyes, for an irresistibly healthy look!
COLOUR, COLOUR, COLOUR
Make-up might be nude, but this season's clothing certainly are not.
With provocative cut-outs, flowers, sequins, and fringes, Spring/Summer 2022 only has one rule for fashion: lively colours.
Stylists at the Milan, Paris, London, and New York fashion weeks championed extensive palettes for a boost of positive energy.
Colour is the theme that connects this unruly season, in which sportswear and elegant dresses are blithely presented side-by-side... all for the same woman!
P.S. We almost forgot: watch out, low-waisted styles are back!
(We weren't ready for this.)
Still working on your bikini body?
Don't panic!
Our magazine includes plenty of tips for getting everything ready for summer... Including your hair. Did you know you should also update your hair routine for the summer?
Your hair is the first part of your body to receive damaging UV rays: that's why it's important to protect it with a balanced diet, a few targeted tricks, and the right haircare.
Download the new Medavita magazine to learn all the details!